NATIONAL RECORD




A perfect 100 out of 100, with 9 x's, 200yards sitting rapid fire was shot at the 2011 Newcastle Open by Australia's Matthew Avard. Matt used the Waters Rifleman Tikka T3 tube stock. It was Matt's second match with the new configuration. However, that is not where Matt's success ended. Matt then went on to clean both strings of the 200 sitting rapid fire AND clean both the strings of the 300 prone rapid fire, finishing with a score of 400 out of 400. This is a result that one rarely sees, even on the international stage. Congratulations Matt. See full results here...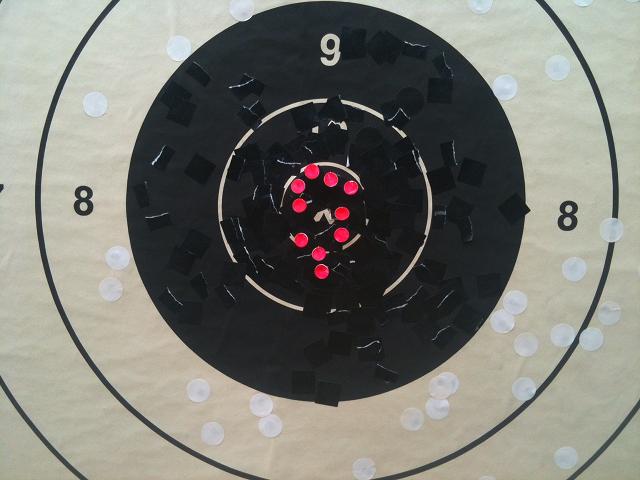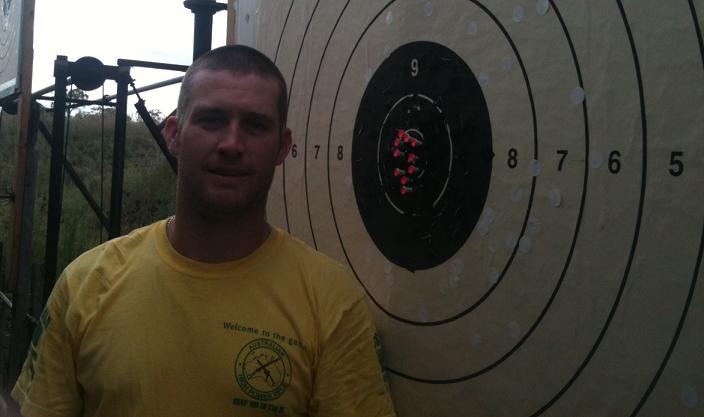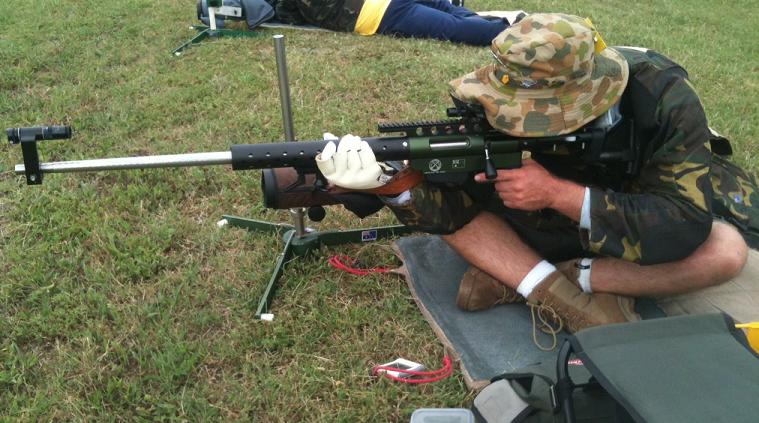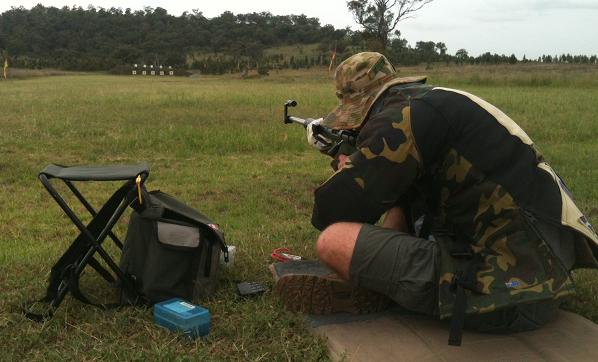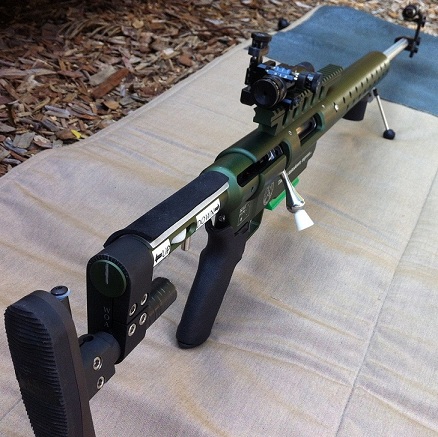 (samples of working tube stocks - as used by David Waters)
TIKKA T3 TUBE STOCK
100% FUNCTIONAL AND OPERATIONAL, FOR THE COMPETITIVE ACROSS THE COURSE SHOOTER...
WITH THE RIGHT PRICE TAG...AND, AUSTRALIAN MADE.
AUSTRALIAN MADE
$POA.
email us:

INTRO:
The perfect and ideal platform for any precision positional rifle match and competition shooter, who demands an excellent and adjustable stock solution to mount a factory Tikka T3 short or medium rifle action (not for any other action). This stock will not win show and shine rifle competitions, however this stock is made to satisfy the competitive shooter rifle needs to win matches!
WHY:
The technology behind shooting doesn't stand still for anybody - just like the refinements of equipment for any other sport. Australian shooters need the ability to continue to shoot world class scores using world class equipment. But, in most cases, world class equipment that is available in Australia is VERY expensive, and very hard to find. This is where this tube stock comes in. This tube stock is all aluminium, sturdy, adjustable, high tolerance, functional and should suite the majority of rifle target shooters...without the high price tag.
WHAT:
This tube stock is a skeletal support that will encapsulates a factory Tikka T3 action. One simply inserts a Tikka T3 short or medium action into this aluminium stock, fits sights, adjusts to size, then is ready to go train, practice and compete. Then, it is a matter of making additions, changes to the gun in it's entirety - stock, barrel, sights, etc.
USES:
Suitable for any single position or multiple position shooter. Target shooting competitors, sport shooters and hunters are all enjoying the offerings of using this stock.
ADVANTAGES:
There are many advantages to using this type of tube stock system. The obvious advantages are the ability of the typical shooter to make adjustments to fit, feel and perform to the best one can.
FEATURES:
- LEFT and RIGHT hand available,
- Full tube stock, totally encapsulating the Tikka T3 receiver,
- Aluminium base material - 6060 extruded hand guard and ad-ons, 6061 all other parts.
- Bolt cycles and feeds S and M size factory Tikka mags (up to 308 Win and similar bolt length cycle rounds), (could be extended by self at own risk) - does not work with 30-06 length cartridges,
- Adjustable height cheek piece (16mm radius),
- Adjustable 4-way butt piece (length, height, offset and butt pad angle),
- Long NATO sight rail with built in 10 MOA of elevation, held down by M4 screws,
- Free floating hand guard (370mm long) capable of 20deg angle rotation,
- 9.5mm accessory rail slot and 25x17 entry port at slot rear,
- Accepts factory T3 magazines (and our aftermarket 10rnd steel metal Tikka T3 magazine),
- Butt extension equipped with 1 countersunk "main" screw and 1 "additional" pan head screw (NOTE: The stock should be used with all fixing screws in place),
- Action also "pushed" down using 4 grub screws through the top of receiver tube. This is to ensure rigidity of action receiver inside the upper tube, and allow removal of the lower, service the trigger, but not have the receiver move in the receiver tube (no need to re-zero sights).
MASS: Approx 2.9kg bare stock.
COLOUR: Standard colours are combinations of Blackand Gun Metal. Other colours available on request - cost $90 per colour per stock (will reduce with quantities).
You have a choice of 3 different colour buttpiece hangers. Please specify when ordering...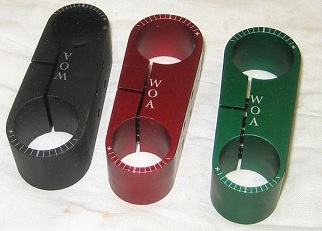 OPTIONS (extra's – contact for details):
- Metal / Steel 10 shot Tikka T3 223 base magazine (S+ size) is available, with a longer overall load length of 2.5".
- Metal / Steel 10 shot Tikka T3 308 base magazine (M size).
- Plastic single shot loading block (specific to the tube gun - does not fit std factory Tikka T3 rifle).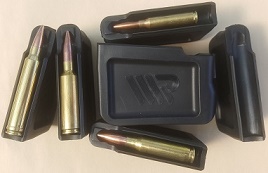 - Re-barrel the factory Tikka T3 to a match grade stainless steel barrel from Pac-Nor - in a popular calibre pre-fit, or buy a blank and get chambered to your own preferences.
SIGHTS:
Shooters will need to organise sights to suite themselves. Current shooters are using:
Front Sights Perhaps consider RPA Texas Tallboy, T2K, Centra Goliath and Phoenix. Typically, the tallest sight in a range is used.
Rear Sights Perhaps consider Centra, Phoenix and Warner - Weaver/Picatinny base.
Note: The Phoenix rear sight has a taller base as standard - ie. at the lowest point of the sight centreline, it sits higher from the
top of the rail/mount. This extra height must be factored into front sight height, or modifications to the sight rail height.
Scope Note: This solution was conceived to compete in NRA Match Rifle with iron sights (Spec 3). Optical sight shooters (Spec 5) are recommended to have optical sights (scopes etc) fitted by a competent gunsmith, and understand there may be trial and error to centre the scope for best windage flexibility and capability. If windage runs out on the scope, then loosen the sight rail screws, and move the mount to suit (approx 30MOA in the rail tolerance), then lock down the screws again tightly. Ensure all screw threads are coated with an antiseize. There is no warranty given for alterations to the stock or its configuration, or if a scope is unsuitable for use.
KIT CONTENTS:
- 1x Upper receiver tube (with S/S mag wear clip)
- 1x Lower receiver/mag-well
- 1x Hand guard tube
- 1x Butt extension
- 1x Butt piece (adjustable) (black, red or green (choice) hanger)
- 1x Nato (Picatinny/Weaver type) sight rail
- 1x Trigger guard (spring tensioned)
- Fasteners:
Item
Qty
Specs
Use
- Screw Cap socket head
- Screw Cap socket head
- Screw Cap socket head
- Screw Pan socket head
- Screw CntSnk socket head
- Washer
- Screw Grub socket
- Nylon plastic wear beads
1
6
3
1
1
3
4
4
6mm x 25 & 35mm
4mm x 25
4mm x 8
4mm x 8
5mm x 8
4mm
5mm

Action take-down screws.
Sight rail screws.
Hand guard.
Butt extension - compliance.
Butt extension - fixture.
Hand guard.
Action push down screws (in upper tube).
Action push down screw mark protectors.
ASSEMBLY:
Warnings:
- Assembly should be done by an experienced gunsmith, craftsman or engineer.
- There is NO warranty for parts damaged during assembly.
- All parts supplied are final, and changes or exchanges are based on replacement prices and terms at the time of requirements.
- EVERY threaded item that screws into the Alum chassis MUST be lubricated with an anti-cease grease. DO NOT assemble without threads coated in antiseize paste.
Step 1: Disassemble the intended Tikka T3 assembly, down to the action/receiver and barrel only. Keep all parts contained and on hand (stock, trigger, etc).
Step 2: The safety lever must be removed from the Tikka T3 trigger, to fit inside the lower receiver. This may take a few minutes (at your method). Also, remove the spring dowel.
Step 3: Remove the dust cap from the Tikka T3 bolt and store (no longer needed).
Step 4: Slip in the T3 action into the upper receiver tube from fore-end, then fit trigger to action (if front sight barrel band is oversize, and wont' fit through had guard, then hand guard may need to be fitted to upper tube first).
Step 5: Use take-down socket head cap screws to join the lower receiver/mag well to the upper receiver tube through to the action (ensure all 3 holes are aligned BEFORE attempting to screw). It is also strongly suggested to ensure these screws also have anti-seize, as the frictional compression of the lower counter-bore is what keeps these parts together.
Step 6: Assemble all other stock components...noting:
- Hand guard is screwed in place using the 3 off M4 x 8 socket cap head screws AND the M4 washers (washers are a must).
- Butt extension using the countersunk M5 screw (only need to screw out half way to remove butt from upper tube). The 2nd screw is option, but recommended to be used.
- The trigger guard is sprung into place...with the taper towards the front. To fit, simply squeeze the trigger guard, slot into place, then release.
Step 7: LAST, insert 1 per nylon plastic wear bead into each 4 hold-down holes in upper receiver (either side of sight rail), and pinch-tighten down onto enclosed receiver body. This applies additional downward pressure to the top of the receiver, and help increase stiffening and rigidity. Do NOT over tighten. Be sure to check pressure after shooting, as a pinch up may be required from time-to-time.
Step 8: Shoot, zero sights, then enjoy...
Assuming basic tools and the hand skills are available to complete the above, the assembly process should take no more 30 minutes from start to finish.
Maintenance should be minimal, but with some experience, the rifle can be easily completely disassembled in just a few minutes, and reassembled in equal time.
For permanent Assembly, it is possible, for the most fastidious shooter, to glue the Tikka T3 action into the upper receiver tube.
TRIGGER MODIFICATION:
The safety latch needs needs to be removed. Simply cut off the lever, remove the bolt block rod/pin, then grind down the safety lever pin to less than 1mm height.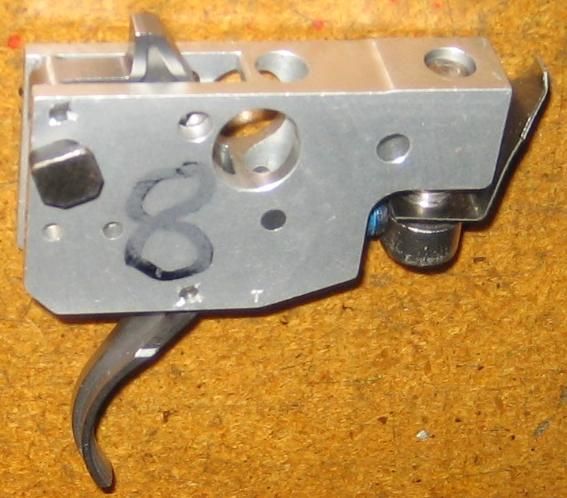 Tikka T3 tube stock tubestock metal aluminium colour anodised