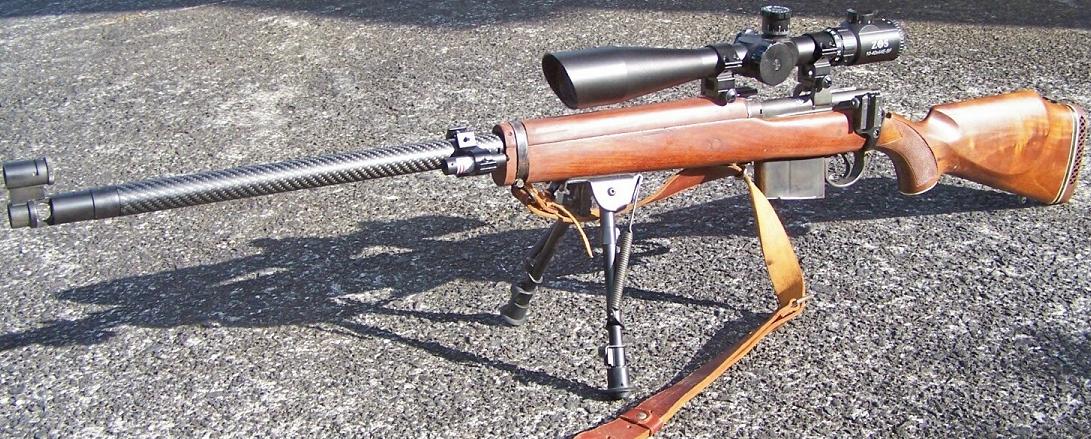 The project rifle started life as a 1966 Ishapore 308, in the usual shape these are found, beat to heck but sound underneath; hiding in a friends closet in California, cost $90.
The mods are as follows;
Fully floating carbon fibre barrel, AK 47 308 muzzle brake threaded fitting, parker hale front site, rear sight set up - PH5a, jewelled NOS Enfield bolt, hand grooved for the front band, NOS no1 mk3 2a forend with fully receiver bedding with Fultons dowels at the sear lugs, L 42 king screw pressure pad at trigger guard, smle butt stock as per L 39, butt trap filled with lead shot, top hand gaurd is a no4 unit with the stock mounting ring, scope mounts are custom as per L 39 using weaver track tapped to receiver, awesome CanWest competition trigger unit, and topped off with a ZOS 10-40x44mm mil dot scope. Total weight 14 lbs.
You have my permission to publish any or all of this;
If you'd like more pics or what ever just holler.
I'd like to know when it gets put up on the website, so I can take a look.
I call it my Ishapore L 39 2a, or Hanumans revenge. lol