ABERDEEN RIFLE RANGE
AIHPA HAS ZERO CONTROL OVER THESE RANGES.
THESE RANGES ARE LISTED TO HELP PROMOTE ONLY.
Map: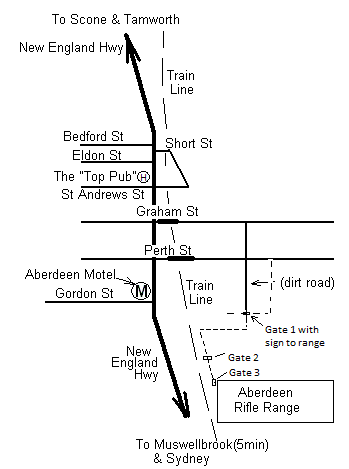 Range: Travel along New England Highway, to southern side of Aberdeen. Turn east at the small brick
shopping centre (Perth St). Go over train track bridge, to next intersection. Turn right (Campbell St) then
turn proceed to end of road. Go straight through fence gate, into property and proceed towards range.
Shelter: None.
Cooking: BBQ available.
Electricity: Provide own electricity.
Water: None. Bring drinking water.
Toilets: Yes (pit).
Showers: None.
Range: 600y Pits type with 5 targets (fixed target gallery, multi firing distances).
Mobile Phone Coverage: Next G. Other services patchy if available.
Accommodation: There is STRICTLY no camping allowed on the range. Campers may camp from outside Gate 2.