Camp Perry, Ohio, USA 2017 National Matches – David Waters story…
(Pics at bottom)
Camp Perry this year was the first year the NRA were not part of the National Matches at Camp Perry Ohio. The NRA moved to Camp Atterbury in Indiana. The National Matches were an all CMP affair.
The CMP only event, this year, was extremely well run, however it was far too short. For those travelling half way around the world, 5 days of shooting just isn't enough. Although, there are the CMP Games matches one can shoot, but they are very firearm specific, which are not part of my history, and these matches are just as costly – in many cases, more.
Now 13 years on, I'm pretty well known around Camp Perry. Nicknamed "the Aussie". The amount of support I receive from my fellow shooters in the USA is second to none. But 1 person stands out above most and that is Vera of the CMP. Without Vera, there is no way I could make the trip each year.
My departure was all fine, except I had come down with the flu just the day before. My experience on the plane was less than comfortable. Then, what was to be a 5 hour layover in LAX turned into a 7.5 hour layover, it wasn't pleasant suffering the flu. To top it off, we arrived into Cleveland, had to sit on the runway for 40min waiting for the plane in our gate to leave, then we got towed to the gate but waited 25min for the doors to open so we could disembark. But, arrived safe and that is the main thing.
I arrived 3 days early before my planned departure for Camp Perry, by staying at my dear friends place, Bob. He is a former workmate and a HUGE help for me to get from the airport to Perry, and back, and most all things taken care of (stored) between Perry visits. A real upstanding member of the shooting community.
Off to Camp Perry…
My routine now days for Perry is pretty well fixed. I arrive into Perry 2 days before matches to settle into accommodation, get my grocery shopping done, say hello to all my friends, walk commercial row and spend lots of money, then organise the receipt of the firearm/s and ammunition for the matches.
The day before the matches, the rifle I used arrived on base, where I collected. It is a National Match AR15 but is fully custom built by, who I regard, as the best. I'm not going to give plugs to the manufacturers, as this rifle is lent to me by the kindness of the owner, not sponsorship. But if you think of the top brands behind AR's and parts, then probably most of those brands are in my AR build.
Once the rifle gets to me, I'll dry fire the rifle in my room for half an hour, or so (mostly standing). Then I'll head a few miles down the road to a private range to get some zero shots in. After a year of no use, the rifle I mostly always use can easily resettle into a cold state. It needs a thermal exercise, as do I (going from Winter to Summer). So, it's usually a case of shoot, check, adjust, shoot again, check, adjust, and do it again just to be sure. Tighten it all up, then shoot again… However this year, when I arrived at the range, it was impossible to fire a shot. The range had 4 inches of water over it after recent downpours. I didn't fire a shot, so first shot tomorrow in the matches was my first zero sighter opportunity.
Remember, the CMP is all cold starts – NO SIGHTERS. New to this year - NO ALIBIS.
OH, AND SERVICE RIFLE NOW IS ALL OPTICAL SIGHTS...(SCOPES). But being an A2 lover, I have and will continue to stick to the iron sights... At a guess, 95% of the shooters are using scopes now. I feel left out, but proud of being an iron sights shooter, while I still can...
16 July – Sunday - Day 1 of Matches – Oliver Hazzard Perry Match. This match is a 30 shot match, and new to the event. I had no zero, no gun time, nothing…shooting cold…with the flu.
200 Sitting Rapid Fire 91 Extremely low for me, given I expect to clean sitting every time. All shots WAY out to the right.
300 Prone Rapid Fire 97 A surprising score given no real zero, but I zero'd off this footprint.
600 Prone Slow 96.2 The conditions were good, but slight changes, making 10 shots hard to build a rock solid zero, that didn't agree with the 300 zero.
Total Score: 284.2 Finished 185th out of 604
The match ultimately turned out to be a waste of time for zero's because I got no firm data from it due to the gun resettling during the match. However, I did get some trigger time and felt really good about the year.
17 July – Monday – Presidents 100. Unlike years past, this is not the first match. The Presidents is the MOST prestigious match there is. I've only made it twice before, because this is usually my practice day, but not this year. However, with nothing learnt during the Oliver Perry match, and overnight a complete sight rebuild, it is still a practice and zero match for me. Very frustrating and disappointing…
200 Standing Slow 94.2 (A fair start, looking to improve. First few shots wild looking for new zero after gun work overnight).
300 Prone Rapid 96.1 (all out to the right…mostly clipping edge of 10 ring. Could have been much worse).
600 Prone Slow 96.4 (I was last rely, and by far the windiest. Happy with personal result).
Total Score: 286.7 Finished 127th out of 1108
18 July - Tuesday – National Trophy Individual. This is usually my second match, but the first serious day of shooting. But this year, my third day, but still not confident in the gun and zeros.
Conditions were good all day. Cool, good light. Lots of good results shot, but nothing I couldn't top 10 against.
200 Standing Slow 93.1 Dropped WAY too many points standing. Just couldn't settle earlier and 9'ed myself the whole string.
200 Sitting Rapid 99.3 I can handle dropping 1 point sitting.
300 Prone Rapid 99.3 Happy with that…
600 Prone Slow 97.4 99.4 Happy with this – dropping 4 points over 20 shots, in switching conditions, and considering the first 97.4 included an 8…
Total Score: 487.15 Finished 69th out of 1042
Overall, the NTI resulted in a VERY disappointing result. Just dropped WAY too many points standing. I should have top 10'd by this point.
19 July - Wednesday - Hearst doubles. I shot this match with Jeanelle Westrom, who is my go to when I am not in an organised team. She always steps up, and we always have fun. Even shooting on the LAST target on the small end of Viale, there was no shortage of people around us, thanks to Jeanelle.
Shooting this match now is all about having fun. The big 2 matches (P100 and NTI) are done, and yet again, I am starting the fun stuff which a solid zero – 2 matches too late.
200 Standing Slow 98.2 Excellent, given I'm a 95 average, but 98 for sure when peaking.
300 Prone Rapid 98.4 Wind wasn't tough but was on an off. A good result.
600 Prone Slow 93.4 Major frustration!!! I opened a new box of ammo at 600 with 2 shots to go. First shot was an 8 out the top. Not sure why, I did a half correction down, then next shot a 7 out the top. This new ammo gave MASSIVE elevation changes. Dropping 5 points in 2 shots is a very tough pill to swallow.
Total Score: 289.10 Finished 95th out of 610
20 July - Thursday - NTT 6-man teams. 50 shot with no sighters, with my Texan mates of Gulf Coast Rifles. Match started in some good conditions, then as soon as we got to the 300, the wind blew at full value left to right, and surprised nearly everybody. No real coaching, so we just shot for fun…but we are competitive shooters, so always looking to do our best.
200 Standing Slow 98.2 Excellent shooting, given the cadence changes shooting in pairs.
200 Sitting Rapid 100.6 Finally, back to my expected score.
300 Prone Rapid 91.0 What went wrong? The wind! I had 1.5MOA on, then the wind blew with first 2 shots out the right. Wound on 1MOA, then pumped the next 8 shots into the 9 right at 3 o'clock. The true wind value was nearly 4MOA. I was a mile off…
600 Prone Slow 90.1 and 91.1. A disaster. Using the SAME ammo I ended the Hurst with, this stuff could not hold an elevation. I shot anything from 9s out the bottom, to 8s out the top.
Total Score: 470.10 Finished 178 out of 486
What a horrible way to finish my very short Perry campaign. So many excellent scores in strings, but just couldn't put a match total together.
Aggregates came in at:
P100 & NTI 773.22 out 800. 44th out of 940 shooters.
NIT & NTT 957.25 out 1000. 57th out of 893 shooters.
P100 NTI & NTT 1243.32 out 1300. 81 out of 1164 shooters.
21 July - Friday - NTIT (Rattle Battle) 6-man, 8 targets. I chose not to shoot this match. Just not feeling like I am shooting to potential, I thought I wouldn't let any sides down. However I supported my friends of Texas, Gulf Coast Rifles. I brass monkeyed and scores, then help pull targets. The team did very well, but lost too many points at the 600 to place higher than they should have.
22 July - Saturday – Springfield M1A match. I couldn't leave Perry, after all the travel and cost, by only shooting 4 days, so I decided to push back my departure from morning to after shooting the M1A match.
I've never shot an M1A before, and certainly not such a match. It is ALL shot at 300 yards for all 3 positions – total 40 shots. I borrowed the rifle from my mate Vic K, and got the ammo from Steve – both of Kentucky. To say this rifle was…unique to me, was an understatement. The whole concept of such a rifle was new.
300 sighters, prone. Wow, this gun was WAY off. 1st shot a complete miss. 2nd shot clipped edge of target. By 5th shot I had it in the 9 ring.
300 Prone Slow 97.3 Happy enough considering the start. The gun is shooting right, and I tried to adjust windage and put me out the other side. I had to hold favouring left, which I don't normally do with iron sights. I kept creeping the hold to the middle and dropped a few out to the right.
300 Prone Rapid 96.0 The whole hold left thing, with a foreign gun, getting bashed in the face with my thumb, getting smashed in the nose with rear of receiver, etc… I just couldn't hold it together and started to flinch shooting this thing. How is this fun???
300 Sitting Rapid 94.0 Sitting rapid is my thing, but without a zero, I had to use the prone zero and shoot upright aiming 6 o'clock (I'm a cant shooter, so…upright is foreign to me). Anyway, the receiver and all is further away from me in this position, so no more being beaten up…
300 Standing Slow 88.2 Dropped WAY too many points standing. The 300 yards didn't bother me at all. And can't blame the conditions. And, I could hold the 9 right or better at 300, just flinching like heck.
Total Score: 375.5 Finished 7 out of 330
I could not believe it when I was told I had come 7th. My first thought was there must be some kind of mistake. I'm told 375 is a good score. Wow! Winning score a 377… So, I plan to shoot it again in 2018. BTW, by far the best match for prizes…money, and lots of it, give away at the end…
After the M1A presentation, I hit the road back to Akron to my friends house.
23 July - Sunday – Time to shoot STEEL. Off to Reyners to shoot 5 stages of steel on targets from 235yards to 1000 yards. Each stage has 2 sets of 4 targets scoring 5, 10, 15, 20. The smaller the target, the higher the value.
Bob L and I drove down to where Bob is a regular. I borrowed Keith B rifle which was a 6.5x55GWI – a very slick bit of gear…for a Rem bolt pattern (I am now very used to 75deg, so the 90deg throw took some getting used to). But it shoots slick.
Had a LOT of fun, except for getting hammered on by pouring rain for half an hour. I had to shoot in a rain stint, and simply could not see the targets, so got a (literal) wash for that stage.
I only shot the smallest target…that's just me. Not a serious comp for me, so wanted to see what I could do. I did good….but no hits at the 1000 yards – oh well.
Would LOVE to do this again, and this is the sort of thing we need in Australia (dare we have the audacity to shoot at a steel target – how dare us!).
Spent the rest of the week out, with Bob and saw lots of shops, and spent lots of money.
Following weekend shot at Hidden Valley on the "Head Hunter" match. That was a challenge, literally. The shooting wasn't the hard bit, it was finding the darn targets…amongst all the trees and bushes, etc.
Lots of great people at these smaller (not Camp Perry National Matches) type events. Meet salt of the earth type people. And, get to see people ride in on their motorbike with a bare open rifle slung over their back (wow!). In Australia, he'd have TRG and SWAT after him…
Again, this trip was only possible after the great help from some great US friends – Bob and Wendy L for everything, Vera, Christie, and all the girls at the CMP, Glenn & Bob for rifles and ammo, all the friends and the much appreciated matches volunteers. Last but not least, massive thanks to all the many, many shooters I meet or see again each and every year.
Stay well all my friends in the USA, and see you next year.
Dave
One of the many pistol ranges.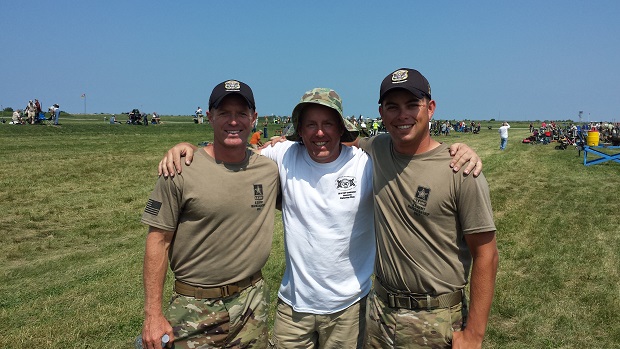 Obviously me in the middle. Salt water fisherman, the best service rifle shooter and one of the best general rifle shooters ever, Brandon Green on my right - plus an all round great bloke. To my left is David Bahten, another top shooter and great bloke, who I met over 10 years ago when I shot with him as he was only in his mid-teens - he could really hold, then got picked up by the Army Marksmanship Unit, and now one of their top shooters (second in NTI with a record breaking performance, but just pipped by Brandon who set a new record by x-count over David). Absolute gentleman, and always happy to help.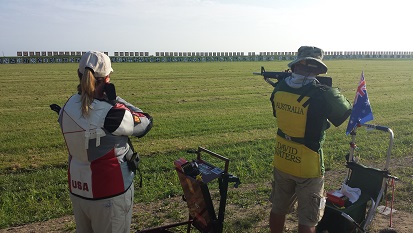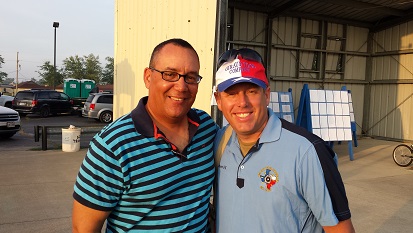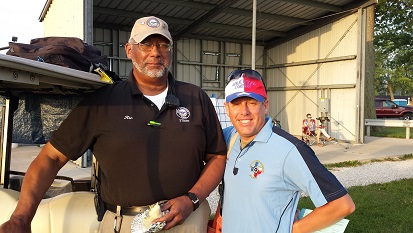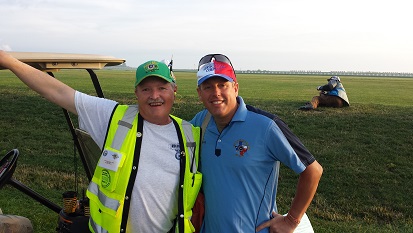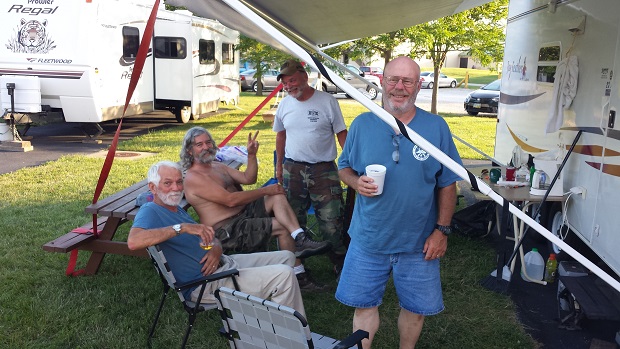 A great bunch of blokes from Kentucky and New York. I spent many evenings with them drinking and eating...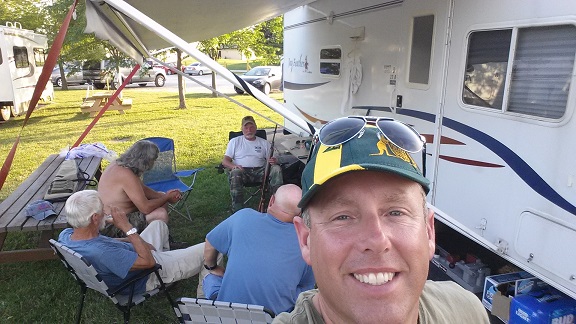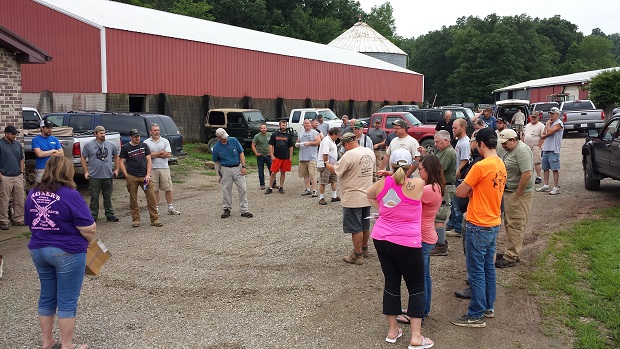 The Steel shoot briefing at Reyner's.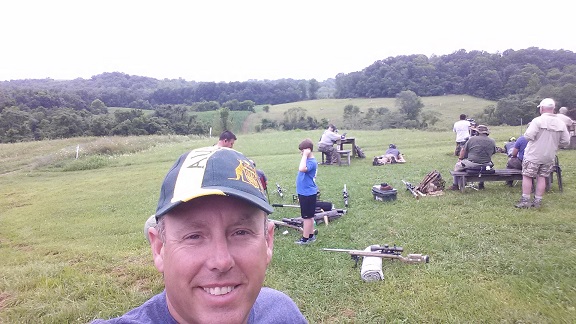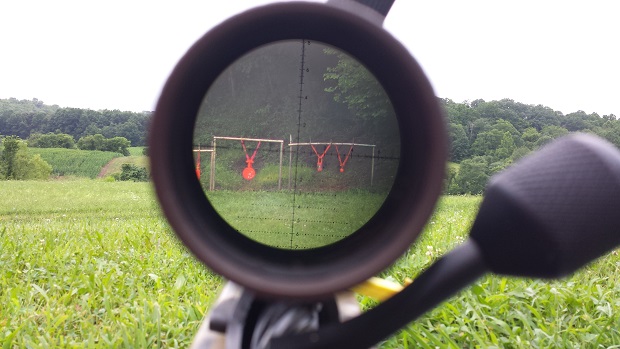 These targets are 400 yards away... You get 3 shots - choose your targets, but the largest target is 5 points, and the smallest is 20 points.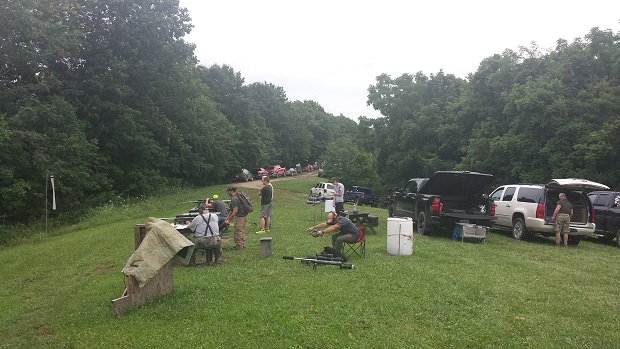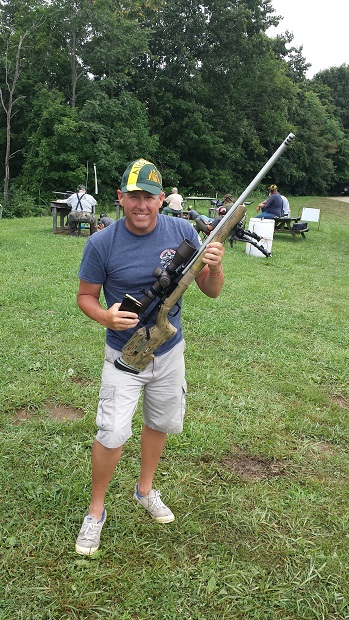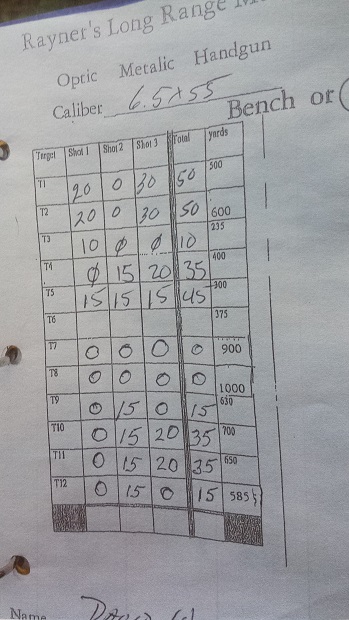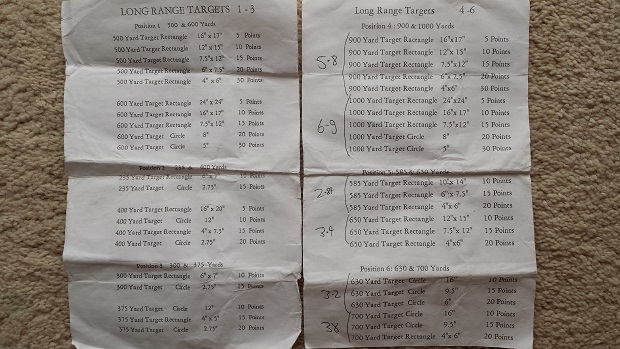 A score of around 300 is considered a good one... So, not bad for my first time, with a borrowed rifle, and all coldbore shots were at the small target (no safe shots for me).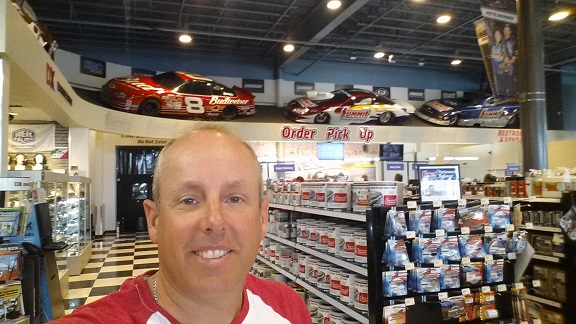 At Summit racing HQ in Ohio. Wow! Literally everything is on display...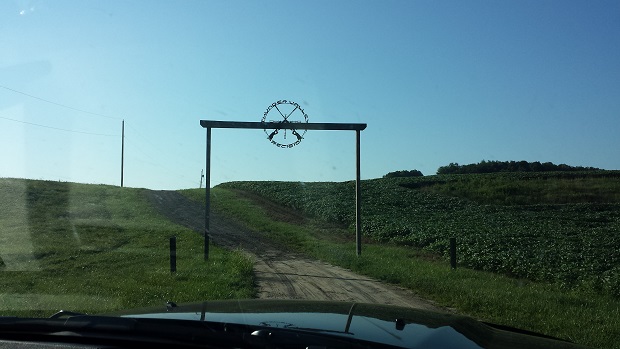 At Thunder Valley "Head Hunter" shoot.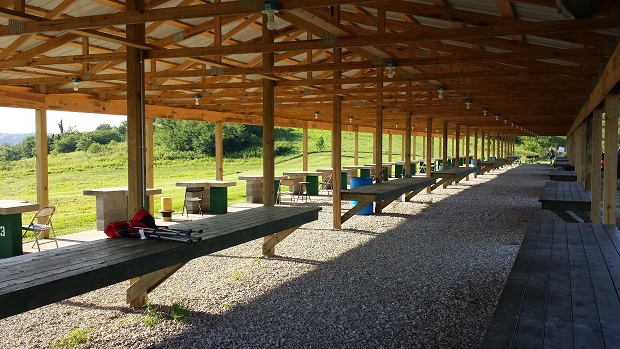 This is the gathering point, the we head out into the hills.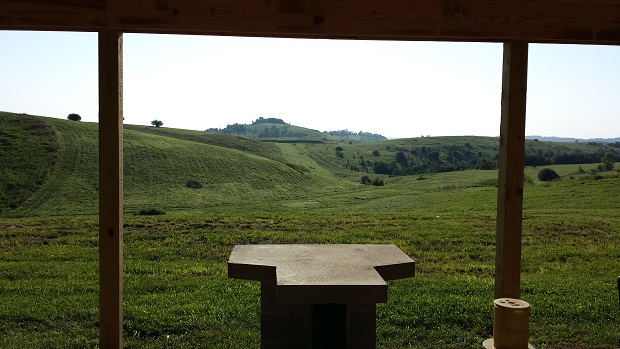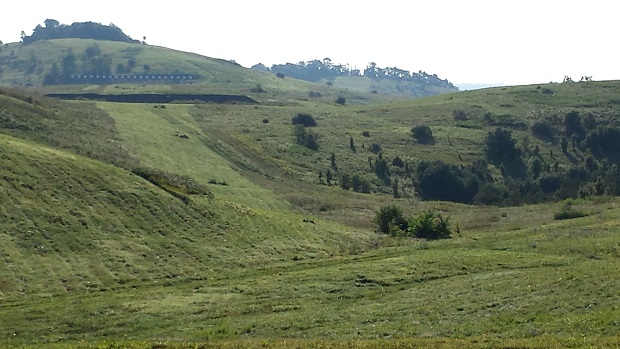 Chris, a formers soldier, rides to the range...with 338 Lapua across his back...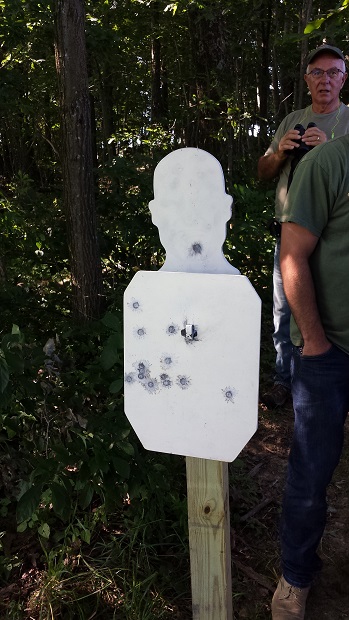 The head hunter steel target.
Shoot from confined positions, out of scrub.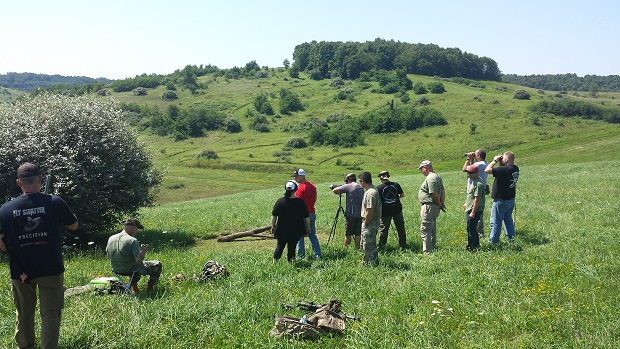 Shoot mountain top to mountain top...